LUXURIOUS SOAPS
Our luxurious goat milk soaps and almond milk soaps have been carefully curated to soften and moisturize your skin while delighting your senses. We use the cold process artisan method of soap making in order to preserve all the moisturizing goodness of our premium oils and the benefits of our essential oils. Handmade in small batches, our soaps run an average of 2.5 to 3.75 ounces, depending on the design, and contain no artificial fragrance or color. Pictures are representative. Our soaps are crafted by hand, so no two will be exactly alike. Intended for external use only.
Click
here
to visit the
C. Rose Naturals
boutique!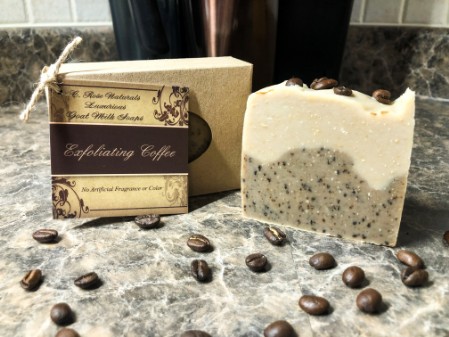 REVIEWS
"I have been enjoying the Dandelion and Conifer Medley soaps. I love the clean fragrances with no irritating ingredients. I've always had to use soaps without fragrances so having the chance to use lovely scented soaps that are simple and natural has been a real treat. They rinse away leaving no residual film. Just clean and fresh. I highly recommend all the products. The lip balm is awesome, the lotions work beautifully, but the soap is my definite fave." AML
"That soap is amazing and so beautiful. I have not seen homemade soaps that detailed. And it smells so, so good." LM
"It smells great and has a great lather. Left my skin feeling very soft & moisturized after a shower." Allison
"I felt like I was at a spa during my shower. The aromatherapy from the peppermint was relaxing and all of the different oils made my skin feel so smooth and clean. I'm glad that I ordered 5 extra bars! I can't run out of that soap!" PS
"These soaps make good shampoo as well as body soap. My scalp feels so much better since using this soap! It suds up nicely all the way to the end of the bar." NC
Life is
Too Short
to use
unattractive
soap!
Do not use if allergic to any ingredient. Test in a small area. Discontinue use if irritation occurs. If pregnant or nursing, consult a doctor before use.
Nothing in the above narrative intended to constitute any medical claim or medical advice. Not intended to diagnose, treat, or cure any disease.